Ayurveda Grecotel Kos Imperial Thalasso
"The Mantra for health & happiness"…
Ayurveda treatments, performed by Indian therapists. A whole new dimension of Spa opens up as we learn to touch and communicate with you in a manner that honors your uniqueness and body type. The spa-experience then becomes a context where your true nature can blossom and unfold. Inevitably, this is what each one of us seeks. Our wide range of luxurious face and body treatments are tailor made through an Ayurveda diagnosis to further customize product selection and treatment for your body nature.

Ayurveda is a science dealing not only with treatment of some diseases but is a complete way of life. This system of science stress on the prevention of body ailments in addition to curing them. This tradition of natural healing system has been a part of culture and daily life in India since the Indus valley civilization (BC. 3000). It is the most natural way to refresh you, eliminate all toxic imbalances from the body, and regain resistance and good health.


Ayurveda is based on the universal principles and is a living, growing body of knowledge, which promotes positive health, natural beauty and long life. It concentrates on the mental, physical and also spiritual harmony of an individual creature as a whole and also of the universe. This is the only system, which removes the ailment from the root cause.
We offer something more than just a good treatment…
We present a journey of self discovery…

PLEASE NOTE: As Ayurvedic system of treatment is strictly personalized, the exact treatment and medicines
can be fixed after detailed consultation with the doctor.
Book Online
or Call +30 22420 58000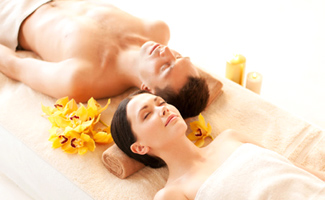 Combine your booking with Spa therapies!
Book your room online & Save up to 30% on the "Love Potion for 2" & "Imperial Garden Elixir" treatments.
For more information please contact the Elixir ThalassoSpa: +30 22420 58000 or email at: reservations.ki@grecotel.com
---


Must Try
Imperial Garden Elixir
A celebration of Flower and Sea gardens. Detoxifies, combats cellulite and obesity, revitalises, moisturises, tones and firms the skin, speeds up metabolic rate, anti-stress.
READ MORE
---
Imperial Massage with Monoi Tiki oil
MONOI's moisturizing properties mean it helps to soothe the skin and protect it naturally from damage from the sun and the sea. It is the miracle product responsible for the legendary hair of the Tahitian women. Due to its relaxing properties, Monoi TIKI is ideal for relaxing massages.
READ MORE
---
Face Treatments with Caviar
The care system DALTON BEAUTÉ DE LA MER is based on the effectiveness of the CELUMER CELL ACTIVE MARINE EXTRACT – EXTRAIT DE CAVIAR. It supports the regeneration of skin, prevents the early aging process (ANTI AGING) and solves problems like acne, couperose, sensitiveness and allergic skin as well as neurodermatitis/psoriasis.
VIEW TREATMENTS
---