Kos Imperial Thalasso Body & Soul Elixirs
Specially designed extended programmes for a truly uncommon experience and pampering in exclusive settings. They offer both ancient and modern techniques to relieve body and soul.

ELIXIR OF LIFE 1HR & 20΄/125€
Restoring body energy, balancing body aura, revitalising, hydratying, improves skin firmness. an alchemists secret from antiquity, which blends the four elements of life: water, air, earth & fire. This exclusive skin therapy harnesses natures most luxurious element- GOLD and the delicate scents of wildflowers from the plains and desert with incredible revitalizing effects that rejuvenate skin and boost vitality. A gentle body exfoliation using the healing power of gold, minerals, artemissia and passion flower to leave the body glowing. smoothness, suppleness and body energy are restored with the application of a rich body mask. Finish with a light massage with replenishing golden powder and body cream for deep moisturizing, while sipping the Potion of Life!


ANCIENT SPIRIT ELIXIR 1HR & 20´/120€
Body toning and revitalisation, anti-stress, combats insomnia, dehydration, suitable for sunburn. This divine full-body Elixir was inspired by ancient beauty secrets. Relax body and mind in the sauna to open the pores. Discover the pleasure of a deep cleansing ritual leaving the skin polished and satiny soft. After an invigorating jet shower, fresh yoghurt is smoothed on to restore your ph balance and deeply hydrate skin. A fragrant bath in your private garden tub, with milk, honey or natural herbs, rejuvenates your senses. Feel the difference! the final application of an ultramoisturizing crème rejuvenates the skin, leaving the complexion absolutely radiant.


IMPERIAL GARDEN ELIXIR 1HR & 20´/120€
Detoxifies, combats cellulite and obesity, revitalises, moisturises, tones and firms the skin, speeds up metabolic rate, anti-stress. This programme is wonderful for removing dead skin cells plus incredible mind-body effects, which will leave you invigorated and revitalized fromhead to toe. A short session in the sauna or steam bath will prepare you for the ultimate pampering treatment. A gentle body exfoliator active ingredients starts the purification process followed by a Dead sea mud body mask. Afterwards you will relax in the marble tube full of essential oils and marine salt extracts. Let your skin absorb all the vitamins and minerals, boosting cell regeneration, whilst you are cocooned in a comforting wrap. Following the sea polish, indulge in a relaxing aroma massage. The unique aromas envelop your body in a fresh, light scent while they relax your mind and restore your skin with lasting hydration.


MARINE RITUAL 1HR & 20´/110€
A journey to the sea: a three-salt exfoliation, made of selected salt for their richness in minerals and trace elements release epidermis from dead cells. Followed by a re-mineralising seaweed wrap and a regenerating massage using beeswax and essential oils. The laminaria body wrap regulates the metabolism, re-mineralizes, moisturizes and protects the skin.
Book Online
or Call +30 22420 58000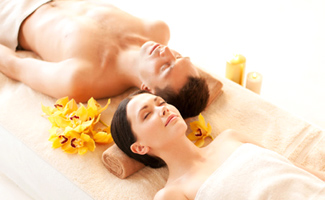 Combine your booking with Spa therapies!
Book your room online & Save up to 20% on the "
Marine Ritual
", "
Love Potion for 2
" & "
Age Antidote
" treatments.
For more information please contact the Elixir ThalassoSpa: +30 22420 58000 or email at: reservations.ki@grecotel.com
The discount is valid for advance purchase bookings.
---
Imperial Massage with Monoi Tiki oil
MONOI's moisturizing properties mean it helps to soothe the skin and protect it naturally from damage from the sun and the sea. It is the miracle product responsible for the legendary hair of the Tahitian women. Due to its relaxing properties, Monoi TIKI is ideal for relaxing massages.
READ MORE
---
Face Treatments with Caviar
The care system DALTON BEAUTÉ DE LA MER is based on the effectiveness of the celumer cell active marine extract – extrait de caviar. It supports the regeneration of skin, prevents the early aging process (ANTI AGING) and solves problems like acne, couperose, sensitiveness and allergic skin as well as neurodermatitis/psoriasis.
VIEW TREATMENTS
---