Kos Imperial Thalasso Massages & Therapies
ELIXIR AROMA MASSAGE 50΄/90€
Light body-brushing performed with pure essential oil used as a natural exfoliating scrub. The lavish body massage that follows concentrates on soothing away tiredness, stress and alleviating tension, inducing relaxation to the body and mind.
IMPERIAL MASSAGE 60΄/95€
This treatment, inspired by the grooming rituals of the Classicalera beauties, consists of a total body aromatherapy, a drainage massage, head and face massage, reflexology on feet/hands/ears, and Shiatsu.
DEEP TISSUE MASSAGE 60´/120€
Relieves stress that causes muscle tension. This amazing therapy rejuvenates the body by using deep pressure massage – no wonder it's the favourite massage in the best spas worldwide! Deep muscle groups are massaged using fingers, fists, forearms or elbows. The result is complete rejuvenation, toning and relaxation that relieve pain, reduce stress and fight inflammation by improving posture and sleep quality.
AROMA MASSAGE 50΄/85€
A complete body treatment using essential oils made from plant and herb extracts. The oils have either detoxifying, stimulating or relaxing properties chosen to suit individual needs. The aroma from the oils has a therapeutic effect, inducing a feeling of well being.
RELAX MASSAGE 30΄/55€, 50΄/75€
Body massage performed with special combination of calming oils to relieve tension from your back, neck and shoulders. This wonderful soothing treatment has amazing relaxation and serenity properties and improves the nervous system.
LYMPHATIC MASSAGE 30΄/55€, 50΄/75€
A detoxifying treatment performed specifically massage. It activates the lymph glands to flush out liquids, thus making the muscle tissue firmer. Ideal for combating cellulite and stimulating your body systems.
KIDS´ MASSAGE 45´/75€
A unique treatment specially designed for children. Touch is a natural healing therapy. The Kids Massage is ideal for boys and girls aged 5 to 16 years. Natural hypoallergenic oil is applied with a gentle massage. The qualified therapists gently massage the muscles and joints (hands - back - legs - face - neck - scalp - hair). Regular treatments help to reduce tension and offer a sense of relaxation resulting in tranquil, restful and quality sleep. The massage stimulates the immune system, moisturizes the skin, helps in muscle and bone development and enhances movement and flexibility. Treatment for youngsters and teenagers provides a sense of relief and security, while regular use can help the child gain balance and maturity.
HEAD & FACE MASSAGE 20΄/50€
This relaxing massage performed with essential oils on the pressure points of the neck, scalp, ears and face concentrates on soothing away tiredness, stress and tension. A wonderful treatment for headaches, stiff and tired muscles as well as obtaining harmony to body and mind.
PHYSIOTHERAPY- KINESITHERAPY 30΄/60€
A special treatment to restore orthopedic, muscular, neurological and chronic complaints. Performed using special massaging, movement and stretching techniques.
Book Online
or Call +30 22420 58000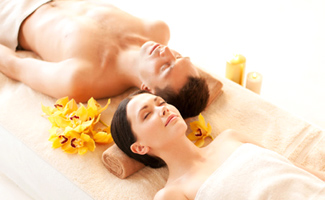 Combine your booking with Spa therapies!
Book your room online & Save up to 20% on the "
Marine Ritual
", "
Love Potion for 2
" & "
Age Antidote
" treatments.
For more information please contact the Elixir ThalassoSpa: +30 22420 58000 or email at: reservations.ki@grecotel.com
The discount is valid for advance purchase bookings.
---
Must Try
Imperial Garden Elixir
A celebration of Flower and Sea gardens. Detoxifies, combats cellulite and obesity, revitalises, moisturises, tones and firms the skin, speeds up metabolic rate, anti-stress.
READ MORE
---
Face Treatments with Caviar
The care system DALTON BEAUTÉ DE LA MER is based on the effectiveness of the celumer cell active marine extract – extrait de caviar. It supports the regeneration of skin, prevents the early aging process (ANTI AGING) and solves problems like acne, couperose, sensitiveness and allergic skin as well as neurodermatitis/psoriasis.
VIEW TREATMENTS
---