Kos Imperial Thalasso Special Therapies
CHOCOLATE SYMPHONY 1HR & 20´/125€
A unique nourishing, stress-reducing body treatment performed with chocolate to invigorate and revitalize you from head to toe. The substance of chocolate as an antidote for premature or accelerating ageing leaves your skin smooth and replenished.
LAP OF LUXURY SEA SCRUB 40´/70€
this sensorial experience will wrap your whole body into softness and silkiness. Enriched with essential oils, this pleasant care begins with a complete body scrub to get rid of dead cells and smooth the skin, and will gently end will with the application of a rich body milk to leave your skin luminous and velvety. skin is renewed and more beautiful.
SPECIAl CAVIAR THERAPY 80´/135€
Slimming, body toning, combats cellulite and obesity, revitalising, speeds up metabolic rate.This divine full-body Elixir was inspired by ancient beauty secrets. Relax body and mind in the sauna or steam bath to open the pores. sturgeon caviar is the secret ingredient in the scrub applied to exfoliate and cleanse your skin. After a shower, the ultra-moisturizing caviar body mask enriched with sea minerals tones and firms skin, leaving it smooth and radiant. A rich full body envelopment with caviar essential oils that follows restores your pH balance and deeply reconditions your skin. Caviar stimulates the regeneration of the skin, it possess antioxidant activity and protects again harmful UV damage.
Special Packages
BRIDAL, 3 HOURS/270€
20' Body Scrub • 20' Body Mask • 50' aroma Massage • 50' Facial Treatment • 30' Manicure

TOTAL BODY RELAX, 4 HOURS/250€
20' Body Scrub • 20' Body Mask • 30' Body Relax Massage • 20' Head Relax Massage • 60' Facial Treatment

MEN'S GETAWAY, 3 HOURS/160€
20' Body Scrub • 60' Aroma Massage • 40' Facial Treatment
Salon Treatments
MANICURE, 30'/30€ • PEDICURE, 45'/40€
WAXING TREATMENTS
Upper lip, 10'/15€ • Legs & Bikini & Underarms 45'/40€ • Legs & Bikini 35' /35€ • Lower Legs 20'/25€ • Underarms or Bikini 20'/20€ • Eye brown shaping 15'/10€
Book Online
or Call +30 22420 58000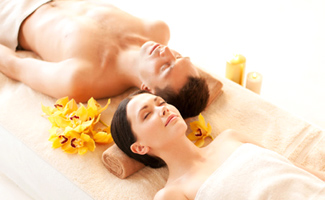 Combine your booking with Spa therapies!
Book your room online & Save up to 20% on the "
Marine Ritual
", "
Love Potion for 2
" & "
Age Antidote
" treatments.
For more information please contact the Elixir ThalassoSpa: +30 22420 58000 or email at: reservations.ki@grecotel.com
The discount is valid for advance purchase bookings.
---
Must Try
Imperial Garden Elixir
A celebration of Flower and Sea gardens. Detoxifies, combats cellulite and obesity, revitalises, moisturises, tones and firms the skin, speeds up metabolic rate, anti-stress.
READ MORE
---
Face Treatments with Caviar
The care system DALTON BEAUTÉ DE LA MER is based on the effectiveness of the celumer cell active marine extract – extrait de caviar. It supports the regeneration of skin, prevents the early aging process (ANTI AGING) and solves problems like acne, couperose, sensitiveness and allergic skin as well as neurodermatitis/psoriasis.
VIEW TREATMENTS
---
Imperial Massage with Monoi Tiki oil
MONOI's moisturizing properties mean it helps to soothe the skin and protect it naturally from damage from the sun and the sea. It is the miracle product responsible for the legendary hair of the Tahitian women. Due to its relaxing properties, Monoi TIKI is ideal for relaxing massages.
READ MORE
---