Kos Imperial Thalasso Thalassotherapy
AQUA ELIXIR THALASSO RUND, HYDROMASSAGE, SAUNA & STEAM BATH
1DAY/35€, 3 DAYS/95€, 6 DAYS/170€
Pamper yourself with this relaxing package of treatments in a customized sequence that features water cannons, jet-streamed water massage and hydromassage for an effective combination of full-body relaxation and help with problem areas. Improved skin tone and circulation are just two of the rejuvenating effects of thalassotherapy. Ask the spa counselors for underwater resistance equipment for your arms and legs. The thalassotherapy program is effective for relieving stress, combating insomnia, relieving mental fatigue, and easing muscular and joint pain.
SEA MUD WRAP 30΄/40€
A full body sea mud wrap with mud from the Dead sea that helps the nourishing elements penetrate the skin. This treatment is especially effective in helping get rid. Sea mud wraps improve skin tone and relieve sore muscles, joints, fatigue and easing muscular spasms.
SEAWEED WRAP 30΄/40€
Mineral-rich seaweed is applied in a body wrap in a special treatment that has proved effective in aiding weight loss, toning and firming tissue, fighting stress and relieving fatigue, cellulite and easing muscular spasms.
Book Online
or Call +30 22420 58000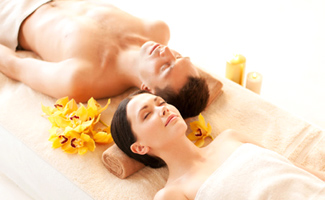 Combine your booking with Spa therapies!
Book your room online & Save up to 20% on the "
Marine Ritual
", "
Love Potion for 2
" & "
Age Antidote
" treatments.
For more information please contact the Elixir ThalassoSpa: +30 22420 58000 or email at: reservations.ki@grecotel.com
The discount is valid for advance purchase bookings.
---
Must Try
Imperial Garden Elixir
A celebration of Flower and Sea gardens. Detoxifies, combats cellulite and obesity, revitalises, moisturises, tones and firms the skin, speeds up metabolic rate, anti-stress.
READ MORE
---
Face Treatments with Caviar
The care system DALTON BEAUTÉ DE LA MER is based on the effectiveness of the celumer cell active marine extract – extrait de caviar. It supports the regeneration of skin, prevents the early aging process (ANTI AGING) and solves problems like acne, couperose, sensitiveness and allergic skin as well as neurodermatitis/psoriasis.
VIEW TREATMENTS
---
Imperial Massage with Monoi Tiki oil
MONOI's moisturizing properties mean it helps to soothe the skin and protect it naturally from damage from the sun and the sea. It is the miracle product responsible for the legendary hair of the Tahitian women. Due to its relaxing properties, Monoi TIKI is ideal for relaxing massages.
READ MORE
---